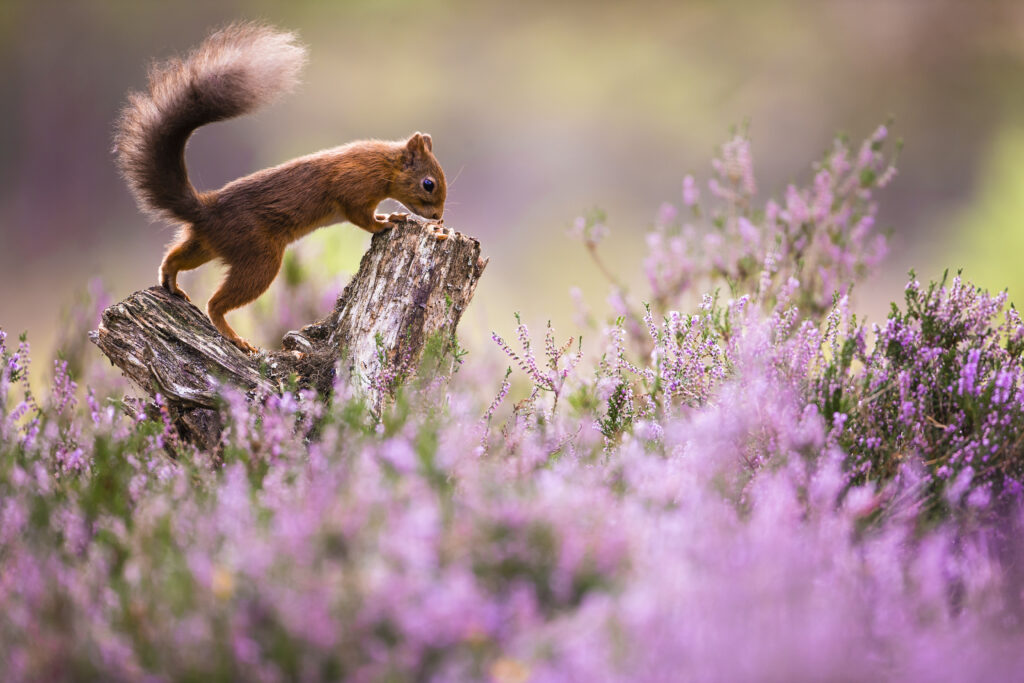 The UK-native red squirrel is thriving in some areas because of conservation efforts and habitat management. But the population remains small, making them difficult to find.
Whether you are a red squirrel enthusiast like us or just fancy a walk outside in nature, we've made it easy for you.
Check out the best places to see red squirrels in the UK.
We're based in Merseyside, so it's no surprise Formby is at the top of our list. You can do the one-hour dog-friendly red squirrel walk where you can discover the beautiful woodlands and hopefully encounter some red squirrels. Make sure to look carefully at the feeders in the trees.
Brownsea Island is home to 250 red squirrels, so hopefully, you'll be able to see them manoeuvring up and down the trees collecting and eating nuts. Brownsea Island is also home to water voles and kingfishers, so you're bound to feel immersed in nature.
Another place you might see a red squirrel is at Aira Force in the Lake District. Feeders are placed along the footpaths, making it easier for you to spot the shy red squirrels. Arrive before it gets busy for the best chance at spotting them.
Allen Banks is over 41 hectares, and it's brimming with wildlife, boasting dormice, roe deer, badgers, bats and otters. If you're lucky, you might see a red squirrel in the treetops.
The Loch of the Lowes is a 130-hectare reserve with a lot to offer. It includes woodland, freshwater loch, hides and a visitor centre. What might you see there? Red squirrels, great-crested grebes, great-spotted woodpeckers, grey heron and more. Excitingly, the osprey return to their nest during the spring and summer months, which is only 150 metres from the hides.
Gight Wood is a broadleaved woodland, and it is known to be a good area for seeing red squirrels. As well as red squirrels, it boasts wildflowers, hazel woodland, and a beautiful woodland walk that takes you up to a viewpoint.
Inchree is a red squirrel hotspot. You should be able to spot red squirrels visiting well-stocked feeders from the suitably placed viewing holes.
Did you know Anglesey is a stronghold for the red squirrel? They can be found in Pentraeth and Newborough Forests, where they almost disappeared by the mid-1990s but were re-introduced in 2004. Why not take a stroll along the Red Squirrel Walk from the Llyn Parc Mawr car park and appreciate the beauty the forest has to offer?
Glenarm is largely composed of ancient and veteran oak trees, riverine and wet woodland habitats… and packed with wildlife. Almost every mammal found in Northern Ireland has been recorded there, such as the pine marten, red squirrel, otter and badger. Plus, in 2014, over 1,100 species were recorded! You are bound to see something you love if you choose to visit this gorgeous nature reserve.
With a flourishing population, Borthwood Copse is undoubtedly one of the best places to see red squirrels on the Isle of Wight. Relax and unwind by wandering along the stunning 1-hour walking route amongst ancient trees and keep an eye out for the red squirrels.
Now we've rounded up the 10 best places to see red squirrels in the UK, it's time for you to go out and explore.
Interested in getting involved in red squirrel conservation? We're always looking for volunteers to help us bring back red squirrels to the Knowsley Estate and surrounding areas.
Take a look at the volunteering we offer: Become a volunteer – Reclaiming Reds