It's National Volunteers' Week and we would like to say a big THANK YOU to all our wonderful Red Ranger Volunteers. Reclaiming Reds is a grant funded conservation project, so having a volunteer programme is vital to our success. We have been asking our volunteers what inspired them to become a Red Ranger volunteer and what they enjoy most about volunteering for a conservation project.
Jump to Become a volunteer
I was inspired to become a Red Ranger volunteer after I had a virtual lecture with Naomi at my university. The project needed volunteers to help out, which I was especially interested in as it included administrative opportunities. This allowed me to continue volunteering despite all the covid restrictions. I am also from the Midlands, so I was still able to volunteer despite not living locally.
I did not think volunteering would be possible due to Covid-19 and I have really enjoyed the tasks so far. It feels very rewarding being a part of such a good cause and it is a great feeling knowing you're making a difference.
I have really enjoyed my experience with Reclaiming Reds so far, and being a part of conservation in action has been very interesting. Including learning what it really takes to protect a species. This has been really eye opening, and I look forward to seeing the results of the Reclaiming Reds initiative in increasing red squirrel populations at Knowsley Safari, and the surrounding area.
Katie – Community and Research & Administration Volunteer
I find it rather depressing that people who enjoy and are interested in wildlife will do very little to safeguard it. Some people are happy to bemoan the loss of species and biodiversity, usually complaining that others should do more. Volunteering as a Red Ranger allows me to do something locally, to help wildlife and biodiversity in a very practical way.
Its early days, but the sense of helping an endangered species is very strong. I live near a red stronghold, so every time I see one I have a strange sense of ownership, that these are my squirrels. My squirrels to look after and protect.
Dave – Control Volunteer
I firmly believe that we should all do as much as we can with the time we are given! Any chance to help a good cause should be jumped at! When I first found out about this project and aware of the damage invasive species can cause, I was all too eager to help out. The project is run by some of the most dedicated people of all and is taking place in a fantastic location for education and conservation of the natural world! I hope to be of as much help to this cause as I can, as well as to meet new people and form new connections!
Finn – Community and Research & Administration Volunteer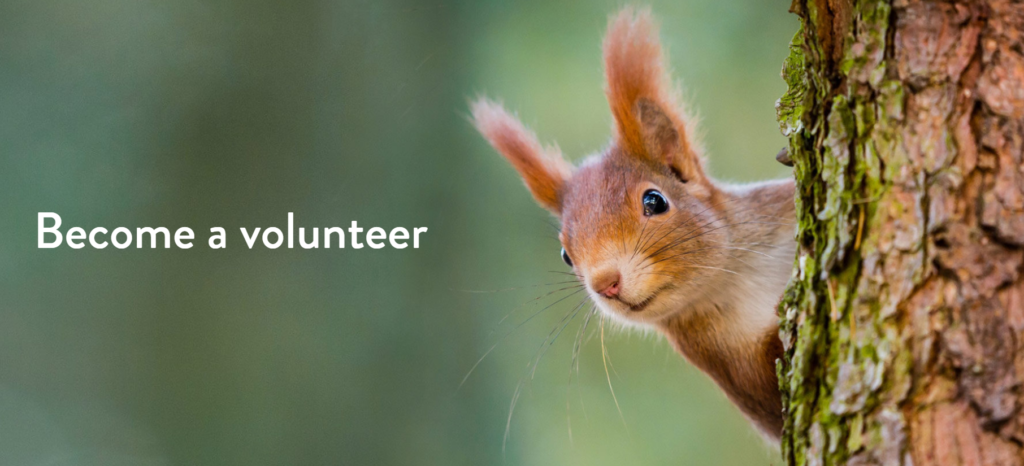 Would you like to become a Red Ranger volunteer? If so, head over to our volunteer page, read the role descriptions and submit your details. A member of our team will then be in touch to inform you of the next steps. See below for our volunteering FAQs:
FAQs
I have already signed up, when will I be enrolled?
If you have already signed up, you are on our enquiry database! Once we have more dates in the diary for inductions and training you will be invited to attend. We appreciate your patience whilst we get these days organised.
Do I need previous experience to volunteer?
Whilst previous experience is always beneficial, you do not require any experience to sign up. Regardless of experience, everyone will go through the same induction & training for the associated role, so no-one will be doing a task they have not been trained to do.
I have a full time job, how much time do I have to commit?
We understand that there's more to life than volunteering (although for us, it's a very big part!), we therefore don't require you to commit a set number of hours. If you have a busy schedule, we will have a chat about your commitments and come up with a plan that suits you. For those interested in less time dependent tasks, the Research & Administration role may be right for you!